Dispatches from the NHF's National Housing Summit 2019
Insight
26/09/19
4:30 PM
by IH reporters
After two days at the NHF Summit in central London, our reporting team reveals the key talking points and takeaways.
For the second year running, the National Housing Federation's (NHF) National Housing Summit took place in central London, with the capital's masterpiece of brutalism, the Barbican Centre, debuting as venue.
Inside Housing's team of reporters has spent the past two days flitting around the sessions, coffee stands and bars in the labyrinth venue. Here is our summary of the key talking points:
---
---
No-show Bob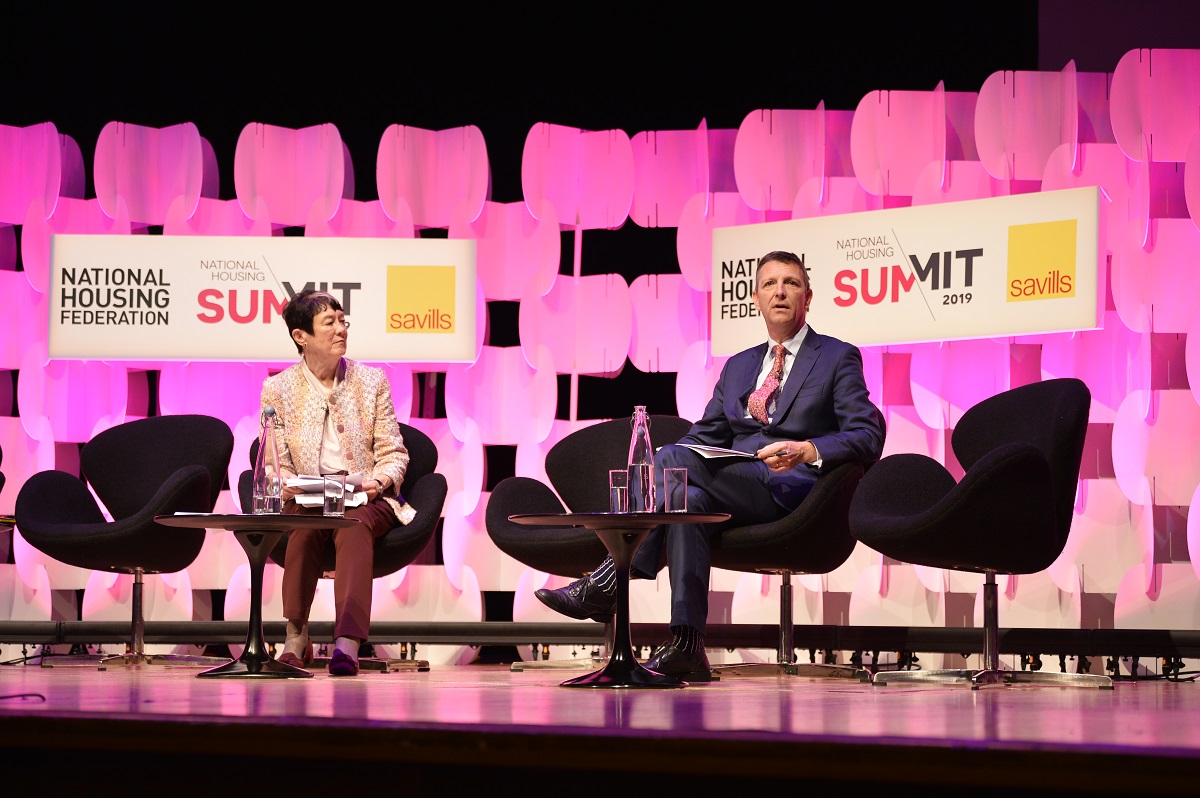 Diane Warwick, chair of the NHF, and Mark Easton, home editor at the BBC, at the session reserved for Robert Jenrick (picture: Ben Pipe)
With the conference taking place against a backdrop of political turbulence, it was inevitable that this would dominate conversation at the bars and coffee stands.
As such, there was much interest in what Robert Jenrick, the new housing secretary, would have to say at his scheduled headline slot on Thursday morning. Sadly, delegates were left wondering - the three line whip requiring Conservative MPs to be present at the Palace of Westminster presented as a reason for his 11th hour dropout.
Just what he would have said remains a mystery - although those who have been privy to conversations with senior government figures in recent months confirmed the impression that his overwhelming focus is home ownership.
NHF vs LGA ding-dong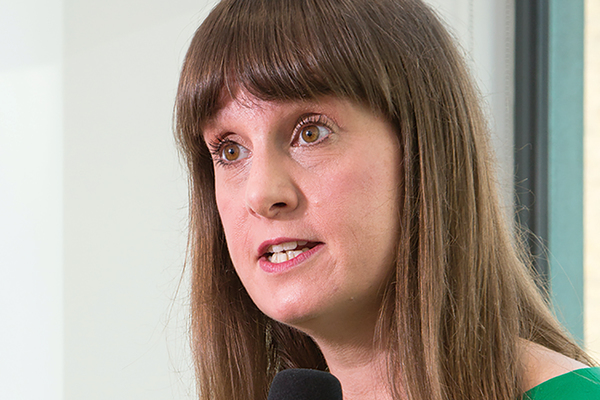 Kate Henderson, chief executive of the NHF (picture: Jonathan Goldberg)
We may be overselling this a little – it was a friendly divergence of opinion rather than a parliament-style slanging match.
Nonetheless, when Kate Henderson, chief executive of the NHF, and James Jamieson, chair of the Local Government Association, took to the stage on Tuesday morning, it was interesting to see where the lines were drawn.
Ms Henderson's message was the need for an increase in the delivery of socially rented homes. Mr Jamieson disagreed, advocating an overall increase in supply with less of a focus on tenure.
Conference veterans may reflect on how the picture has changed in a few years: not long ago divisions between councils and housing associations were typically drawn in the opposite direction.
Love from Labour lost?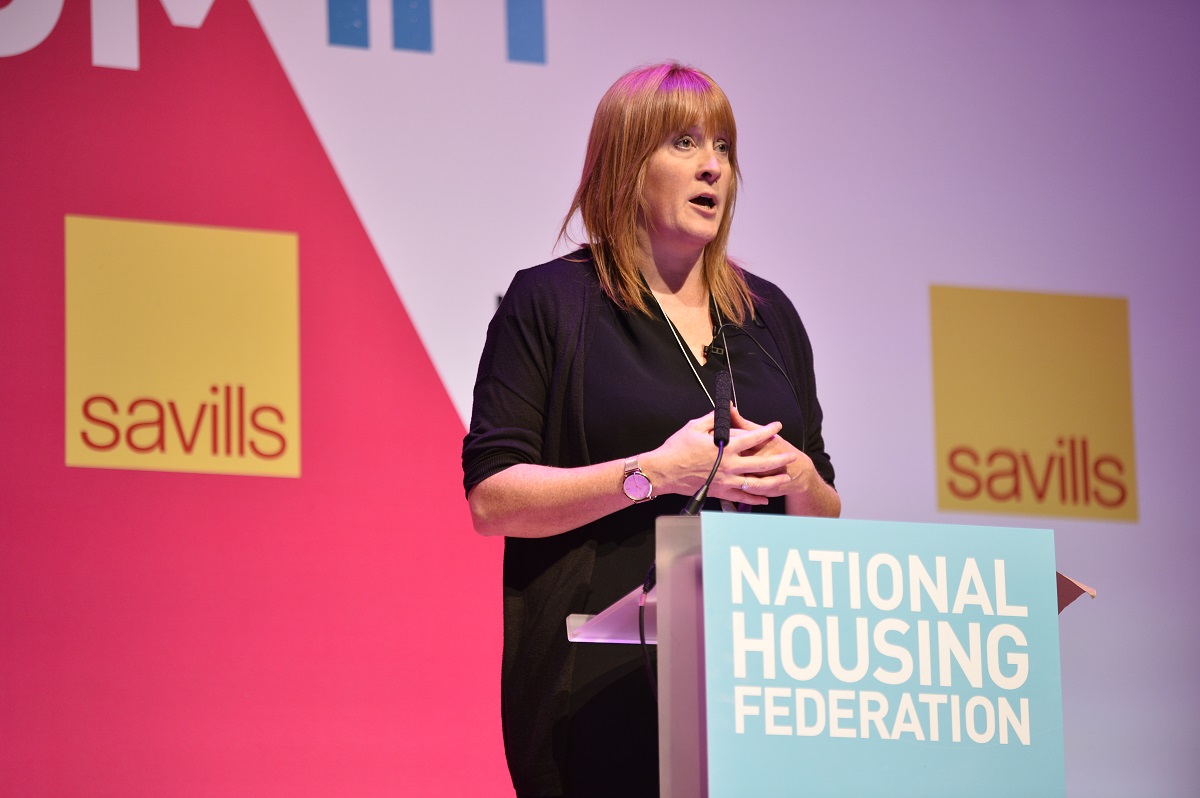 Sarah Jones, Labour's shadow housing minister (picture: Ben Pipe)
There was some distinct grumbling about the state of the Labour party among housing association figures present – convinced they are not loved by Jeremy Corbyn's party, which prefers to talk about the development of new 'council' housing.
Shadow housing minister Sarah Jones arrived on Thursday morning, keen to dispell this impression.
The desire for a new generation of council housing "doesn't mean that housing associations are any less important to our plans", she told delegates, before emphasising the point that what Labour wants is "beefed-up" delivery of social rent from both councils and housing associations.
This points to a long-standing divide between the party and its members, who unanimously voted through a motion at their conference calling for 155,000 social rented homes a year, with 100,000 built by councils and a new power for local authorities to take housing associations under direct control.
She was asked about this directly, and said it was not part of Labour's plans (motions have to be adopted by the party's top brass before they become policy).
"The concern that people have is what happens when a housing association goes wrong… there is a reputational issue for housing associations – you all know that there is," she said.
Overall, Ms Jones' speech was a reminder that the housing association sector still has its friends in the Labour Party. It could do with more.
Regulators, mount up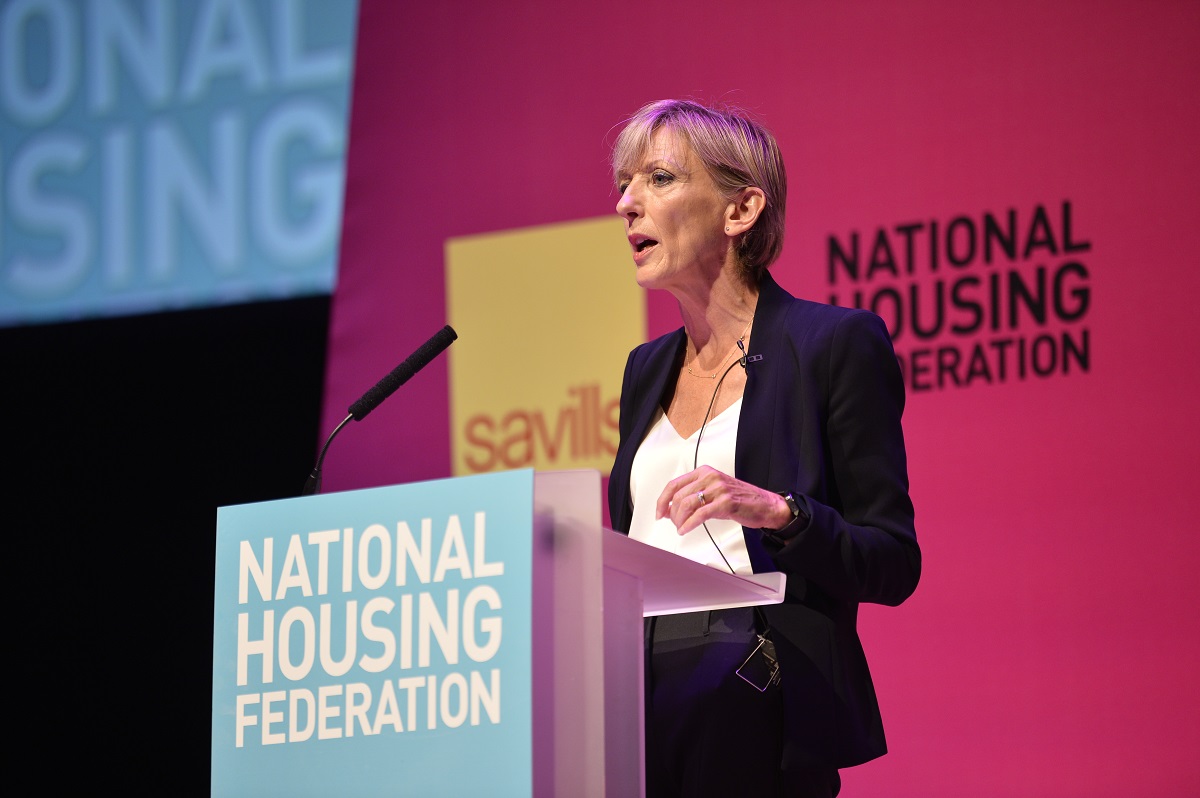 Fiona MacGregor addresses delegates (picture: Ben Pipe)
The summit's second day kicked off with a housing conference mainstay: the regulator's update. These are unsure times for the Regulator of Social Housing (RSH), with the future of how consumer standards, tenant involvement and building safety are scrutinised still very much undecided.
Fiona MacGregor, chief executive of the RSH, was sure to acknowledge all that, insisting that the body stands ready to take on whatever new responsibilities may come its way, while also telling the sector not to await certainty before putting in work on safety and tenant engagement: "You don't get certainty in this world anymore, so regardless of who regulates on these matters in the future, you can do stuff now."
In her deliberate way, she also issued some gentle warnings for the sector: publish your tenant involvement reports, prepare for added scrutiny when rents increase next year and approach the "wall of money" offered by big investors entering the sector with caution.
At the coffee stands after her talk, the sector was full of praise for her approach. One who had recently been through an in-depth assessment commented that it had made them a better organisation. They were keen for the post-Grenfell shake-up not to result in a new watchdog. Like most things right now, it is all up in the air.
Housing is a feminist issue
NHF research published this week said that one in seven people in England is directly affected by the housing crisis and living in an unaffordable, insecure or unsuitable home. Clearly, housing is an issue that can affect everyone, but on Wednesday afternoon the conference heard about how women are especially impacted.
Denise Fowler, chief executive of Women's Pioneer Housing; Victoria Dingle, a tenant and board member at Soha Housing; and Zaiba Qureshi, chief executive of Housing for Women put forward a powerful case for seeing the housing crisis as a women's issue. They pointed out that the gender pay gap – reinforced by the fact women are more likely to be in lower-paid part-time jobs because of caring responsibilities – inevitably means affordability issues are more likely to lock women out of the right homes.
Similarly, welfare cuts such as the benefit cap and the bedroom tax have the biggest effect on single-parent households, which tend to be led by women. Domestic abuse and so-called coercive behaviour is yet another factor.
There were strong messages on what housing providers can do to help their staff and tenants deal with these problems – and crucially, it served as a good rationale for why anyone who cares about women's issues should also be thinking about housing.
Tune into this week's episode of The Housing Podcast to find out more.
(Gen)too much, too soon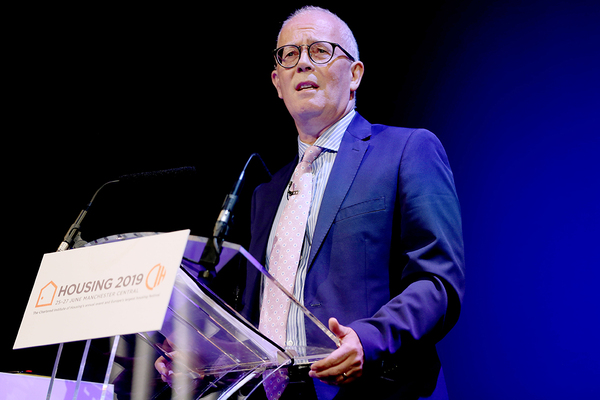 Keith Loraine, chair of Gentoo (picture: Guzelian)
Among the more interesting sessions at the conference was the address on Tuesday from Keith Loraine and Nigel Wilson, the current chair and chief executive of Sunderland's 30,000-home housing association Gentoo.
The pair have been engaged in picking the organisation up after its savaging by the regulator following a downgrade for excessive pay-offs to departing executives in 2017.
Much of the tale around the pay-offs has been told – but perhaps more interesting were the observations that Gentoo had lost focus on the core housing business as it pursued loftier ambitions.
Those who remember the organisation as it was pre-2017 will remember its commitment to concepts such as 'the Art of Living', its description of itself as a "people, planet and property business" and, of course, the decision to name itself after a penguin and drop the name Sunderland Housing Group in 2007. It also diversified quickly into a variety of areas, from solar panels to mortgage-free homeownership.
Mr Wilson observed that one of his major jobs was to focus the business back on the basics of housing management and delivering new homes in Sunderland.
"We're going to stick to the knitting – we do housing and we're sticking to Sunderland. We want to build social and affordable housing," he said, drolly adding that it would no longer promise to "solve global warming or light up Africa".
In the stocks
Unsurprisingly, the conversation was all about new supply when Jackie Jacob, general manager for housing programmes at Homes England, hosted a conversation about strategic partnerships with Mary Parsons, director of placemaking and regeneration at Places for People.
That was until one question from the audience brought the conversation to the topic of reinvesting in existing stock. Is the government's focus on new build ignoring a crisis that is brewing in the country's existing buildings, especially within the private sector?
Ms Jacob responded by saying that government policy is currently "quite firmly in the new supply agenda", adding that it was up to the sector to make the case to government to invest in the country's existing housing stock, even if the buildings are not necessarily owned by housing associations.
Ms Parsons agreed with the questioner that government policy may be too focused on new builds and said reinvesting in stock "has to be on the agenda".
Rent-a-mob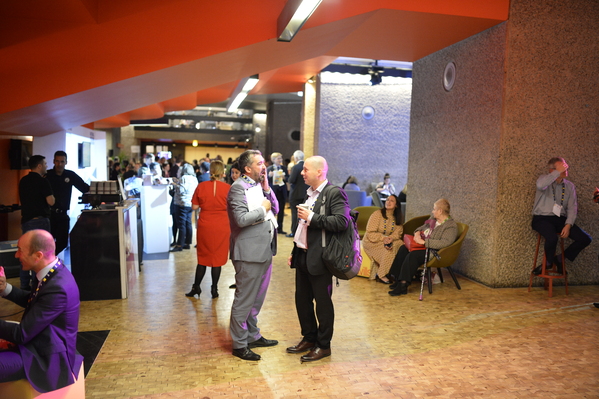 Delegates at the conference chew the fat (picture: Ben Pipe)
Torsten Bell, chief executive of thinktank the Resolution Foundation, had a warning over putting rents up too fast when the power to increase them kicks in next year.
Speaking on a panel about the impact of Brexit on the economy, Mr Bell said the new rent regime creates a difficult dilemma for housing associations who have to decide between "what's in the interest of your existing tenants" versus "the interest of people that would like to be tenants" but will not be able to if landlords do not have the money to build.
Toby Lloyd, former advisor to Theresa May, echoed Mr Bell's words. He said the government has several options if it wants to fund more affordable housing, but "expecting existing social tenants to pay for it through increased rent… feels by far the least justifiable".
The discussion over rents was picked up by Ms MacGregor. She advised housing associations in the audience that they could be sure that increased freedom over rent-setting will come with "greater scrutiny from stakeholders, including government".