Why Inside Housing is joining with leaseholders to call for an end to the cladding scandal
Leaseholders in blocks with Grenfell-style cladding face crippling bills and the ever-present threat of a devastating fire. Our new campaign calls on the government to end this scandal. Peter Apps explains why it is necessary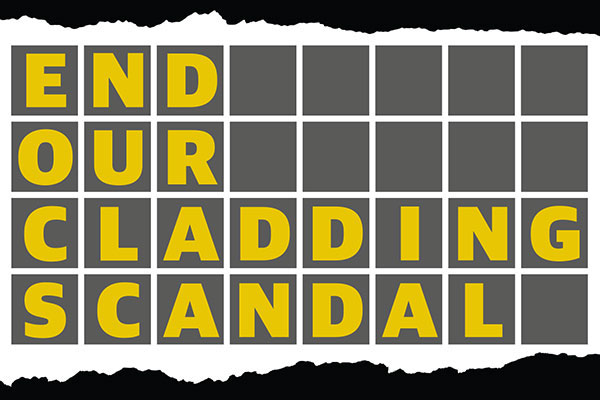 Sharelines
---
Why Inside Housing is joining with leaseholders to call for an end to the cladding scandal #EndOurCladdingScandal
---
Residents in private blocks face financial ruin and the fear of a devastating fire and despite promises, they have been abandoned by government. It's time to #EndOurCladdingScandal
---
The government's attempts to solve the crisis with cladding private blocks have failed. Residents are suffering and it is time for action #EndOurCladdingScandal
---
On 19 May 2015, a devastating tower block fire in Baku, Azerbaijan, killed 15 people including five children. The fire was linked to new combustible insulation installed on the outside of many Soviet-era buildings in the city during a period of 'beautification'.
In the aftermath, frustrated by the lack of action from the state, residents of similar blocks quite literally took matters into their own hands – removing the cladding with hammers or even tearing it off with their fingers.
We have not yet reached that stage in the UK, but it is no exaggeration to say it cannot be that far away. Of the 434 high-rise buildings known to have Grenfell-style cladding, safety work is complete on just 89 nearly two years on from the nightmare fire in west London.
The problem is most acute in private residential buildings. Of the 178 identified to have dangerous cladding since Grenfell, remediation work is complete on just 10. Unlike in the social housing sector there is no government money available to support this work and no state-led programme to ensure it is completed swiftly and properly.
---
---
This week, Inside Housing is joining the residents of these blocks to say enough is enough. The government simply must take control of the situation. However Treasury officials feel about it, a big part of that is providing the necessary money to get this work done.
Our campaign has three simple asks (see box).
First, a fund must be established to pay for the necessary works – both external and internal – to make buildings safe. Second, a clear timetable of no more than two years must be set out for the work to be complete. Third, those leaseholders who have had to burn through life savings to pay for fire wardens and other interim measures must be recompensed.
It is regrettable to reach the position where the taxpayer is asked to fund this work but it is the only solution. Asking leaseholders – many of whom have received government support to buy their homes – to pay is not only unfair, it will also achieve little. These bills, upwards of £80,000 in the worst cases, cannot be paid in full. Residents will be rendered bankrupt and the work still will not be done.
Asking building owners or developers to pay may feel like a better solution, but the plain fact is that it has not worked. While some big builders have been strong-armed into pledging to pay, others have not reacted to public shaming. Some of the building owners are little more than offshore vehicles for owning property and do not fear tough speeches from the secretary of state. In other places, the blocks are owned by residents through Right to Manage companies.
End Our Cladding Scandal: campaign aims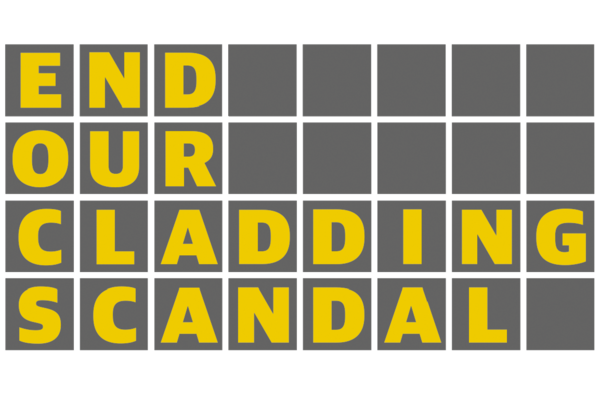 Government provides a fund to cover the cost of cladding removal and remedial works on private blocks
A firm timescale is set out of no more than two years for the work to be carried out
Residents are reimbursed for the interim fire safety costs incurred, and funding is to be provided for necessary internal fire safety measures identified by a competent fire risk assessor
Please email peter.apps@insidehousing.co.uk if you want to support the campaign
Part of the problem is that our current system of leasehold law stacks the cards against leaseholders and the building owners know this. Every tribunal so far has found against the leaseholders – even down to awarding legal costs against them in some cases. The law is not on the side of justice.
The government attempted to up the ante before Christmas by introducing new rules giving local authorities the power to serve enforcement notices for the work to be carried out. But this was ill-considered and has back-fired: it contains no measure to prevent costs being passed to leaseholders and has in some instances simply put a hard deadline on negotiations about who should pay and seen leaseholders served with invoices.
In the instances where funding is in place, there are concerns about the lack of urgency. At New Capital Quay in south-east London, the National House Building Council (NHBC) accepted a claim to pay for the work in July last year. But a planning application was not submitted by developer Galliard until December. No timescale has been set, but residents fear it could take up to six years. That does not match the urgency of the situation.
End Our Cladding Scandal: the mental health crisis in numbers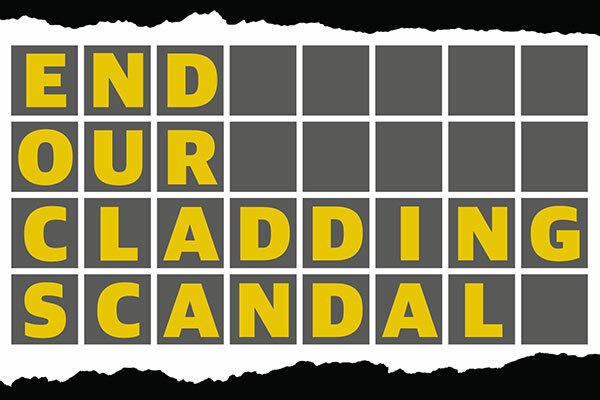 64.8% of residents say their mental health has been "hugely affected" by the ongoing crisis in their blocks
77.8% have experienced anxiety as a direct result of the crisis, while 23% have experienced depression and 65.8% have had difficulty sleeping
8.7% have experienced suicidal thoughts as a direct result of the cladding issues
66.3% have been told by surveyors that they cannot sell the properties
28.1% have been diagnosed with a health issue by a medical professional
86.2% have seen service charges go up, with 25% saying more than £200,000 has been spent on their blocks
25% feel they cannot start a family as a result of the issues
Source: UKCAG survey of 196 affected leaseholders and tenants in private blocks affected by cladding issues
We must remember that when we say leaseholders, we are often talking about first-time buyers and families – some of whom will have received direct government support through the Help to Buy scheme. The homes they cobbled together their life savings to buy are almost worthless while the cladding remains on the outside, so they simply cannot afford to move.
As we reveal this week, the mental health implications of this ongoing impasse are severe (see box, above). That alone would be enough reason to act promptly.
But the bigger fear must be the threat of another disaster. Residential fires are an inevitability in these buildings. The vast majority of them are not fitted with sprinklers and many have inadequate passive fire protection. A cladding fire could be catastrophic. After Grenfell, the sector, the government and this magazine united in saying Never Again. If we truly meant it, we must take the plight of private buildings seriously.
There is little time to waste and that is why we are calling on the government to make the announcement before the second anniversary of Grenfell – now just seven weeks away. Leaseholders have waited long enough. They should not have to wait until the next disaster.
Martin Hilditch, editor, Inside Housing
Manchester Cladiators
UK Cladding Action Group
Natasha Elcock, chair, Grenfell United
Sadiq Khan, mayor of London
Kate Henderson, chief executive, National Housing Federation
Terrie Alafat, chief executive, Chartered Institute of Housing
Andy Burnham, Mayor of Greater Manchester
Lord Gary Porter, chair of the Local Government Association
Polly Neate, chief executive, Shelter
Jane Duncan, chair of the expert advisory group on fire safety, RIBA
Andy Dark, assistant general secretary of the Fire Brigades Union
Christina McAnea, assistant general secretary, UNISON
Sir Peter Bottomley, Conservative MP and chair of the All-Party Parliamentary Group on Leasehold and Commonhold Reform
Jim Fitzpatrick, Labour MP, and member of All-Party Parliamentary Group on Leasehold and Commonhold Reform
Mark Amesbury, shadow employment minister and Labour MP for Weaver Vale
Emma Dent Coad, former Labour MP for North Kensington
Lucy Powell, Labour MP for Manchester Central
Rushanara Ali, Labour MP for Bethnal Green and Bow
George Howarth, Labour MP for Knowsley
Graham Stringer, Labour MP for Blackley and Broughton
Rob Ellis, presenter, Capital FM
John Biggs, mayor of Tower Hamlets
Paul Dennett, mayor of Salford
Suzanne Richards, councillor and executive member for housing and regeneration on behalf of all Manchester's Labour Councillors
Sir Richard Leese, Labour councillor and leader Manchester City Council
John Leech, Manchester Liberal Democrat leader on behalf of all Manchester's Liberal Democrat councillors
Darren Rodwell, executive member for housing at London Councils and leader of Barking and Dagenham Council
George Clarke, TV Architect
David Walker, bishop of Manchester
Graham Tomlin, bishop of Kensington
John Roberts, founder of AO.com
Josh Beaumont, professional rugby player, Sale Sharks and resident of affected building
Bill Beaumont, former England rugby captain
Jeremy Dyson, co-founder of the League of Gentlemen
Andy Moss, actor who has appeared on Channel 4's Hollyoaks and resident
Ross Mullan, actor who has appeared in Game of Thrones
Get Cape Wear Cape Fly, musician
Nour-eddine Aboudihaj, spokesperson for Justice4Grenfell
Mike Leonard, chief executive, Building Alliance
Kate Kendrick, founder, National Leasehold Campaign
Martin Boyd, chair, Leasehold Knowledge Partnership
Paula Higgins, chief executive, HomeOwners Alliance
Mark Henderson, chief executive, Home Group
Ben Clay, founding member of the Tenants Union
Hilda Palmer, acting chair of the Hazards Campaign
Susan Bright, professor of law, University of Oxford
Gill Kernick, consultant and former Grenfell Resident
Phil Murphy, fire safety expert and tower block resident
This list will be updated. Please email peter.apps@insidehousing.co.uk if you want to support the campaign
End Our Cladding Scandal: full coverage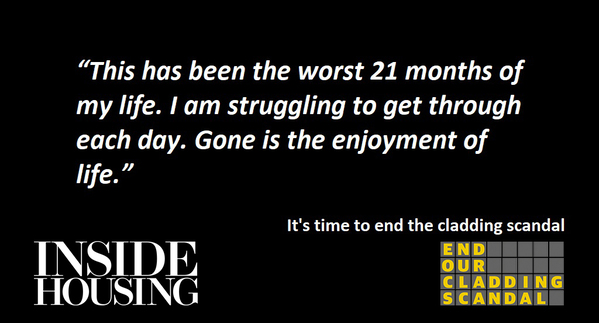 Click the links below to download images to use on social media (like the one above) to promote End Our Cladding Scandal
End our Cladding Campaign logo for Twitter
Note: If your browser does not allow you to download the image, simply right click on the graphic and click 'save image as' instead.