Mayor of London and Shelter join backers of Inside Housing's cladding campaign
London mayor Sadiq Khan and housing charity Shelter have become the latest high-profile backers to come out in support of Inside Housing's #EndOurCladdingScandal campaign to remove Grenfell-style cladding from private residential tower blocks.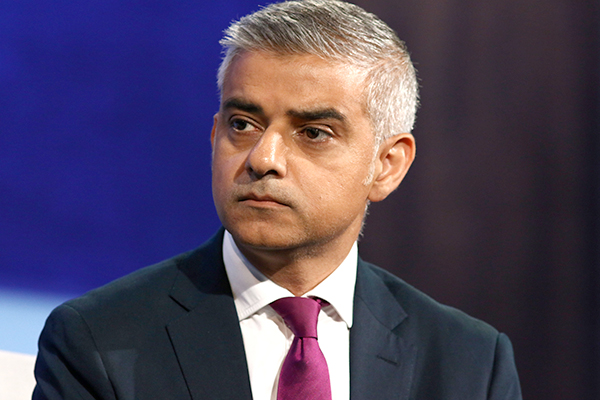 Mr Khan said that the fact people were still living in what could be unsafe buildings was "shameful" and said it was "inexcusable" that the government is yet to form a plan to make them safe.
The mayor of Greater Manchester Andy Burnham has already pledged his support for the campaign, while Sir Richard Leese, leader of Manchester City Council, is also backing the campaign.
Since the Grenfell Tower disaster in June 2017, a total of 176 private residential blocks with dangerous cladding have been identified but removal work has been completed on just 10.
On many others, leaseholders are facing demands to pay for the removal work themselves, with some being quoted up £80,000 each.
The government had been encouraging private building owners and developers to pay for the work with some success, but progress has stalled and many leaseholders are still facing bills in dozens of blocks.
---
---
Mr Khan said: "We hear from many of those affected about the stress this situation has caused. I've been clear that building owners should take responsibility for the cost of making them safe – they should protect leaseholders from extortionate costs for both replacement cladding and interim fire safety measures.
"But I've also been clear that where disagreement about who should pay is delaying works, the government must fund the works directly and reclaim the costs from the building owners."
He welcomed the campaign, adding: "Inside Housing has been a key player in holding ministers to account in the two years since the fire – I commend their vital work exposing the government's failure to ensure the safety and well-being of those living in potentially unsafe blocks across London and the UK."
Shelter also given its support for the campaign. Polly Neate, its chief executive, said: "It's clear that it's not the fault of leaseholders that this dangerous cladding has been used and they shouldn't be forced to foot the bill. We would like to see assurances so that no leaseholder is left out of pocket."
Inside Housing's #EndOurCladdingScandal campaign is being run with UK Cladding Action Group and Manchester Cladiators, which represent residents of affected towers across the country.
It already has the support of a wide range of backers (see list below) including the National Housing Federation, Chartered Institute of Housing, Fire Brigades Union, Local Government Association and Grenfell United.
It calls for a public fund to deal with all dangerous cladding systems, a two-year timescale to carry out the work, and reimbursement for any costs already incurred for interim measures, such as a waking watch.
End Our Cladding Scandal: campaign backers
Martin Hilditch, editor, Inside Housing
Manchester Cladiators
UK Cladding Action Group
Natasha Elcock, chair, Grenfell United
Sadiq Khan, mayor of London
Kate Henderson, chief executive, National Housing Federation
Terrie Alafat, chief executive, Chartered Institute of Housing
Andy Burnham, Mayor of Greater Manchester
Lord Gary Porter, chair of the Local Government Association
Polly Neate, chief executive, Shelter
Jane Duncan, chair of the expert advisory group on fire safety, RIBA
Andy Dark, assistant general secretary of the Fire Brigades Union
Christina McAnea, assistant general secretary, UNISON
Sir Peter Bottomley, Conservative MP and chair of the All-Party Parliamentary Group on Leasehold and Commonhold Reform
Jim Fitzpatrick, Labour MP, and member of All-Party Parliamentary Group on Leasehold and Commonhold Reform
Mark Amesbury, shadow employment minister and Labour MP for Weaver Vale
Emma Dent Coad, former Labour MP for North Kensington
Lucy Powell, Labour MP for Manchester Central
Rushanara Ali, Labour MP for Bethnal Green and Bow
George Howarth, Labour MP for Knowsley
Graham Stringer, Labour MP for Blackley and Broughton
Rob Ellis, presenter, Capital FM
John Biggs, mayor of Tower Hamlets
Paul Dennett, mayor of Salford
Suzanne Richards, councillor and executive member for housing and regeneration on behalf of all Manchester's Labour Councillors
Sir Richard Leese, Labour councillor and leader Manchester City Council
John Leech, Manchester Liberal Democrat leader on behalf of all Manchester's Liberal Democrat councillors
Darren Rodwell, executive member for housing at London Councils and leader of Barking and Dagenham Council
George Clarke, TV Architect
David Walker, bishop of Manchester
Graham Tomlin, bishop of Kensington
John Roberts, founder of AO.com
Josh Beaumont, professional rugby player, Sale Sharks and resident of affected building
Bill Beaumont, former England rugby captain
Jeremy Dyson, co-founder of the League of Gentlemen
Andy Moss, actor who has appeared on Channel 4's Hollyoaks and resident
Ross Mullan, actor who has appeared in Game of Thrones
Get Cape Wear Cape Fly, musician
Nour-eddine Aboudihaj, spokesperson for Justice4Grenfell
Mike Leonard, chief executive, Building Alliance
Kate Kendrick, founder, National Leasehold Campaign
Martin Boyd, chair, Leasehold Knowledge Partnership
Paula Higgins, chief executive, HomeOwners Alliance
Mark Henderson, chief executive, Home Group
Ben Clay, founding member of the Tenants Union
Hilda Palmer, acting chair of the Hazards Campaign
Susan Bright, professor of law, University of Oxford
Gill Kernick, consultant and former Grenfell Resident
Phil Murphy, fire safety expert and tower block resident
This list will be updated. Please email peter.apps@insidehousing.co.uk if you want to support the campaign