London building manager demands millions from leaseholders despite government cladding fund
The manager of a central London block covered in dangerous Grenfell-style cladding has demanded millions of pounds from its leaseholders to remove the material, just weeks after the government announced a £200m fund to cover such costs.
Residents living at the Paddington Walk development have told Inside Housing about the "anxiety and stress" they are suffering after being sent bills for tens of thousands of pounds each last month to cover the costs of remediation work.
The Paddington Walk development has aluminium composite (ACM) cladding, which will cost an estimated £8.9m to remove.
Inside Housing revealed in May that Paddington Walk residents were made to pay £3.5m towards the re-cladding costs last year, making it one of the first blocks embroiled in the cladding scandal to hand over money for remediation work.
The building's management company, Paddington Walk Management, issued a demand in June for residents to pay the remaining money through their service charges.
This came just weeks after the government announced a £200m fund would be available to pay for the removal of ACM from private buildings where work had stalled.
Inside Housing's End Our Cladding Scandal campaign calls for ministers to act to prevent leaseholders in unsafe private blocks being hit with cladding removal bills.
---
---
Lawyers representing Paddington Walk Management have sent a letter to residents, confirming the company would continue to pursue the costs through the service charge, saying this was not "invalid or unreasonable".
Residents have now received bills of tens of thousands of pounds. Paddington Walk Management's lawyers have previously stated that residents risk losing their homes if the money is not paid.
The latest letter from the lawyers, seen by Inside Housing, said that the company aims to bid for government money but it "remains under obligation to continue to collect service charge" until it receives those funds.
The letter added that the company understands the Ministry of Housing, Communities and Local Government (MHCLG) expected management companies to proceed in taking money so works could proceed.
Inside Housing has also seen correspondence from Rendall and Rittner, the block's managing agent, that instructs residents it has "obtained advice" from MHCLG's building remediation team that the "project management on any planned ACM programmes including the collection of funds should continue, so that works could progress".
When asked to respond to this, a spokesperson for the MHCLG said: "Our position is clear: leaseholders should not have to pay remediation costs and we have provided £600m to ensure unsafe ACM cladding is removed.
"Our advice to building owners is that we want work to progress as quickly as possible. However, it should not be interpreted as an agreement to demand payments from leaseholders."
Paddington Walk was built in 2005 by European Land and Property, a joint venture development company owned by the billionaire Reuben Brothers and the Jarvis family. Contractor Carillion was chosen as the builder in 2005. It went into liquidation in January last year.
The current building owner is Paddington Walk, which shares directors with Paddington Walk Management. Both companies also list European Land and Property co-owner Bruce Jarvis as a director.
The government's conditions for the ACM fund state that blocks can apply for refunds, if the leaseholders have already had to pay the buildings' owners.
The letter from Paddington Walk's manager also instructs residents that leaseholders will not be fully reimbursed straight away and a credit will instead be placed on a leaseholder's account. Leaseholders would only receive cash back once the full cost of remedial works have been confirmed.
"Leaseholders are not entitled to any interest on any such credit payments, as we understand some leaseholders have alleged," the letter added.
When asked about this, the MHCLG said that any funding agreement with a building owner will contain a condition that ensures that funding is provided only if leaseholders are fully reimbursed.
A spokesperson for the Paddington Walk residents said: "It is disgraceful that Paddington Walk has not only refused to cover or even contribute towards the costs, but that they now continue to pursue leaseholders after the fund announcement. It is reprehensible and intimidating behaviour.
"Paddington Walk also state that once the funds are received from the government, leaseholders will only be entitled to a credit applied to their accounts, not an immediate refund. This in spite of the fact that the condition of the fund is that leaseholders are fully reimbursed."
Paddington Walk Management and Rendall and Rittner statement
"The purpose of the government's proposal is to ensure that leaseholders will not ultimately bear the costs associated with the replacement of ACM cladding if an application for funding is made and accepted in full. The sooner the government issues the requirements for accessing the funds the better, as this is causing confusion to all those concerned. Confirmation has already been provided to government of the intention to apply for funding for Paddington Walk. As soon as funding is received, the leaseholders who have paid will be reimbursed their proportion of the funds received. Paddington Walk Management is taking all due steps to progress the project with speed and diligence."
End Our Cladding Scandal: campaign aims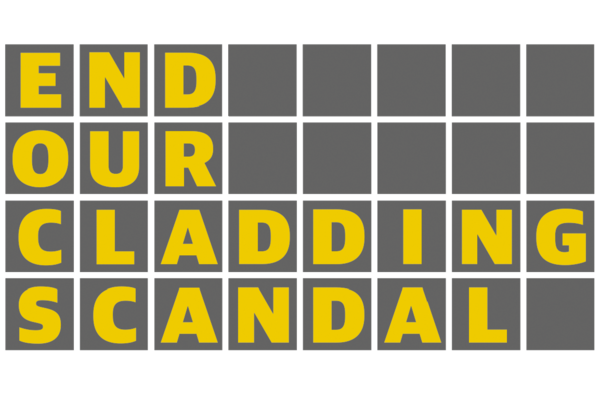 Government provides a fund to cover the cost of cladding removal and remedial works on private blocks
A firm timescale is set out of no more than two years for the work to be carried out
Residents are reimbursed for the interim fire safety costs incurred, and funding is to be provided for necessary internal fire safety measures identified by a competent fire risk assessor