Revealed: hundreds still face huge cladding bills despite government fund
Hundreds of leaseholders living in blocks with dangerous cladding are still facing bills of tens of thousands of pounds despite the government putting £200m towards the removal of aluminium composite material (ACM) cladding last month, Inside Housing can reveal.
A survey by the UK Cladding Action Group (UKCAG), shared with the magazine, showed that there were a number of blocks across the country clad in non-ACM where leaseholders still face crippling costs to replace cladding and resolve other fire safety issues.
Last month the government announced that it would create a £200m fund to pay for the removal of dangerous ACM cladding from private residential blocks.
However, of the 17 blocks referenced in response to the survey, exactly half did not have any ACM cladding on their blocks. Instead they have materials in their cladding and insulation that fire services and fire safety experts believe are dangerous and need to be removed. On some of these developments, leaseholders collectively face bills of up to £3m to get the cladding removed.
Natasha Foulkes – a resident at Burton Place in Manchester, which is clad in timber and combustible insulation – said that, as it stands, leaseholders in the block would still have to pay the cladding removal bill. The cost is estimated to be £80,000 for leaseholders that own three-bedroom flats in the development.
---
---
She added: "While we are pleased the government is doing something, it is not enough, and the fund does not help us in any way."
The UKCAG survey revealed the national scale of the problem, with responses from blocks in Ipswich, the West Midlands, Manchester, London and Sheffield.
Of the nine ACM-clad blocks referenced in response to the survey, four also have other types of cladding and insulation that need to be removed. One example is the Northpoint building in south London, which has three different types of dangerous cladding, including category three ACM – the same used on Grenfell.
Inside Housing is currently running its End Our Cladding Scandal campaign, which calls on the government to provide funding for the removal of dangerous cladding from private blocks. However, the government has so far been clear that cash will go only to those blocks covered in ACM.
In a letter to one resident of a block with non-ACM cladding in Manchester, seen by Inside Housing, the Ministry of Housing, Communities and Local Government (MHCLG) said that the fund would cover ACM only, as the material is "exceptional due to the high risk it poses as an accelerant of fire".
The survey also revealed a litany of other fire safety issues, including problems with fire doors, compartmentation problems and missing fire breaks throughout the buildings.
Of the 17 blocks surveyed, 11 reported issues with defective or missing fire breaks in the cladding systems or other parts of the building. There were also seven blocks that reported problems with the fire compartmentation of their tower blocks that needed to be rectified.
As part of the End Our Cladding Scandal campaign, Inside Housing is calling on the government to pay for necessary internal fire safety measures identified in affected blocks.
A MHCLG spokesperson said: "There is nothing more important than making sure people are safe in their homes and that's why the government is committed to improving building safety.
"Following Dame Judith Hackitt's report, we are working with leaders in the housing and construction industries to start making changes to improve safety within the sector."
Never Again campaign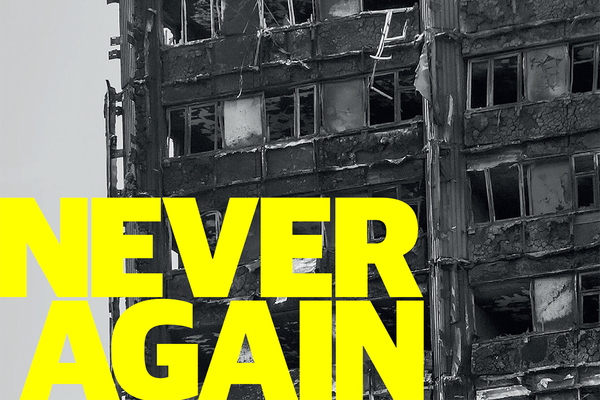 Never Again: campaign asks
Inside Housing is calling for immediate action to implement the learning from the Lakanal House fire, and a commitment to act – without delay – on learning from the Grenfell Tower tragedy as it becomes available.
LANDLORDS
Take immediate action to check cladding and external panels on tower blocks and take prompt, appropriate action to remedy any problems
Update risk assessments using an appropriate, qualified expert.
Commit to renewing assessments annually and after major repair or cladding work is carried out
Review and update evacuation policies and 'stay put' advice in light of risk assessments, and communicate clearly to residents
GOVERNMENT
Provide urgent advice on the installation and upkeep of external insulation
Update and clarify building regulations immediately – with a commitment to update if additional learning emerges at a later date from the Grenfell inquiry
Fund the retrofitting of sprinkler systems in all tower blocks across the UK (except where there are specific structural reasons not to do so)
We will submit evidence from our research to the Grenfell public inquiry.
The inquiry should look at why opportunities to implement learning that could have prevented the fire were missed, in order to ensure similar opportunities are acted on in the future.