The Week in Housing: warnings come to bear
A weekly round-up of the most important headlines for housing professionals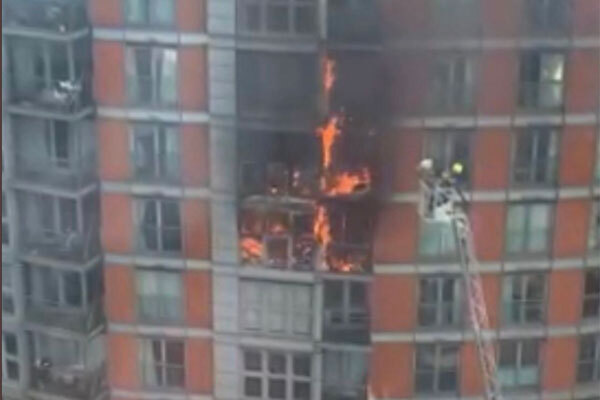 Since the day that Grenfell Tower lay a still-smouldering obelisk on the west London skyline in June 2017, the warning from experts and residents has been consistent: while dangerous aluminium composite material (ACM) cladding remains on buildings, the same thing could happen again.
It is universally acknowledged that progress to replace that ACM across the country has been dismally slow over the past four years, and this week those warnings came to bear in terrifying fashion.
Click here to adjust your newsletter and get this briefing straight into your inbox every Friday
As I write, around 125 firefighters are battling a blaze at New Providence Wharf in Poplar, east London – where work to remove Grenfell-style cladding has not even started. The situation is naturally fast-moving with details yet to emerge and it is not clear whether the ACM played a role, but images from the scene show flames spread across multiple floors of the 19-storey tower. We can only pray that no one has been badly hurt.
Just two days ago, amid a slightly disjointed week of evidence, the Grenfell Tower Inquiry heard from a building facade expert. Jonathan Sakula said that government guidance allowed the use of combustible ACM but that a "reasonably competent" contractor should have known it was unsafe for high rises – a paradox that underpins the madness of the cladding crisis.
And while the very real human threat associated with dangerous cladding was playing out at New Providence Wharf, there was also yet another reminder this week (if it were needed) about the huge financial impacts. The UK's largest house builder, Barratt, revealed it has now spent a staggering £163.1m fixing safety issues since Grenfell.
---
---
Besides cladding, there was a reminder about the limited progress on the other major issue arising from the Grenfell Tower fire this week. Influential bereaved and survivors' group Grenfell United wrote to prime minister Boris Johnson declaring that it is "not prepared to be kept waiting any longer" for changes to amplify the voices of social tenants. It demanded that the government commits to enacting the Social Housing White Paper proposals in next week's Queen's Speech.
Sadly, the New Providence Wharf fire was not the only worrying story about housing safety this week. On Tuesday, a council house in Ashford, Kent, was involved in a huge explosion injuring seven people, with two badly hurt. An official explanation for the blast has not yet been issued, and the local authority confirmed that all relevant safety certificates for the affected homes are up to date, though it is difficult to shake the feeling that these incidents are still happening all too frequently.
Elsewhere, in the latest twist in the exempt accommodation provider saga, it emerged that Prospect Housing – which is set to become the largest housing association ever to wind up – made overpayments of housing benefit to managing agents totalling £1.26m in the past two years.
A High Court ruling in Birmingham to the effect that the council's social housing allocations policy unlawfully discriminates against disabled households could have implications for town halls across the country.
In other news, the government this week finally launched its scheme aimed at helping renters facing financial difficulties because of the pandemic. The 'Breathing Space' scheme will prevent landlords from reclaiming rent arrears or issuing Section 8 eviction notices to tenants dealing with problem debt for a 60-day period. The scheme's success could be crucial to preventing a surge in homelessness when the evictions moratorium lifts at the end of this month.
And finally, a number of leading housing bodies including the Chartered Institute of Housing had strong words for ministers over their immigration plans. The proposed new system, they told the Home Office, will be "dysfunctional", failing to address current housing-related issues and making it harder to accommodate asylum seekers.
Of course, voters across Great Britain also took to the polls this week for various elections. We are still awaiting the results, but Inside Housing will be picking through the implications for the sector in our coverage next week.
Nathaniel Barker, deputy news editor
Editor's picks: five must-read stories
Sign up for our Week in Housing newsletter