Waking watch costs trebled after review by company owned by chair of government panel
Leaseholders in a Manchester block with a limited amount of dangerous cladding experienced a threefold increase in waking watch costs after a review by a company owned by Sir Ken Knight, chair of the government's expert panel.
Britton House in Manchester originally had a waking watch imposed in September after a surveyor concluded that a thin strip of cladding running vertically up the building poses a fire risk.
A waking watch service – security guards who patrol 24 hours a day to watch for fire – was introduced for the exterior of the building, at a monthly cost of around £6,000, or £60 per leaseholder.
But after residents raised complaints that the watchers were not providing an adequate service, a review was conducted by Gresham (SMS), a fire safety consultancy owned by Sir Ken.
---
---
This review concluded that an internal watch was also required and the bill has now risen to more than £20,000 a month.
The government is currently urging building owners to replace costly waking watch systems with fire alarms. Lord Stephen Greenhalgh, building safety minister, tweeted in the summer that the government should be "encouraging greater use of more cost-effective measures such as alarm systems to replace or reduce dependency on waking watch wherever possible".
Residents face a £32,000 one-off bill in the new year to cover the costs of the remediation in addition to the waking watch bills.
Stephen Squires, a leaseholder who has lived in the building for eight years, said: "It's just the unfairness of it, the injustice of it. We didn't build the building and this has just come along, it's like being hit by a train. We're just in limbo – we can't sell, but we can't afford the costs of repairing the building either."
Sir Ken (pictured below) is the chair and one of four directors of Gresham SMS. The company's accounts for 2019 show that he was paid consultancy fees of £48,296 and that dividends of £41,932 were paid to the directors.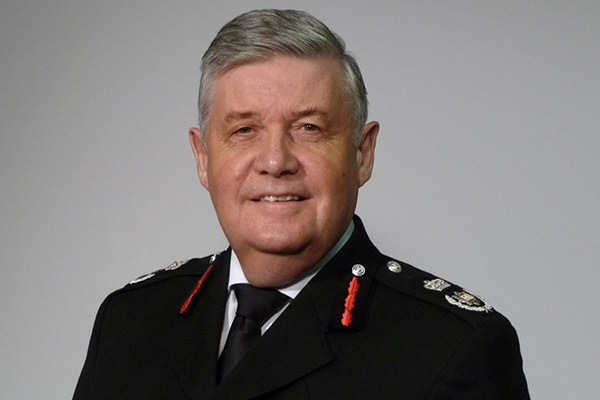 He has been chair of the government's expert panel, which advises the Ministry of Housing, Communities and Local Government on building safety matters, since its formation in 2017.
Britton House is owned by Adriatic Land and managed by Homeground. A spokesperson for Homeground said: "We sympathise with leaseholders who are landed with costs of regulatory failures dating back decades. Our role is to ensure that these buildings are made safe as quickly as possible while working with all relevant parties to protect leaseholders from the cost. In this case, this includes an application to the government's Building Safety Fund."
It is understood that the view of Gresham SMS was that the original waking watch measures were not in line with National Fire Chiefs Council guidance and that changes were made to ensure the safety of residents.
A review is being carried out regarding the feasibility of an alarm system, with residents given a quote of £160,000 for its installation.
Gresham SMS did not respond to requests for comment.
Sign up for our fire safety newsletter