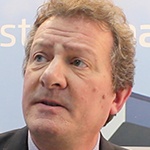 Back in 1981, there was a housing crisis. Waiting lists were growing fast. Only a few years earlier, local authorities had a duty imposed on them to secure accommodation for the statutory homeless and a new pressure on council housing was working its way through the system. People began queuing in waiting rooms. There were delays, frustrations, misunderstandings and difficult conversations.
This was also the year that Right to Buy began to bite. Suddenly, at the same time that demand was being fed by new definitions of housing need, the supply of housing was reducing. There were consequences which included a tightening of 'gate-keeping', restrictions, reviews of allocation policies and points schemes, and revisiting of housing need. The demand came from applicants rather than real people. A customer ethos was something for the future. If anyone wanted their application personalised there were no points for it. Someone needed to be in control. The responsibility fell to me as 'the allocator' in my role as a principal housing officer.
Twenty years later
Fast-forward a generation later to 2001. Customer service was being discovered by social housing and key lines of enquiry (KLOEs) were being designed.
Consultants in the Netherlands overhauled the traditional way people engaged in the search for social housing - recognising customer engagement rather than points-hunting. The emerging choice-based lettings (CBL) had a theme - to put the customer at the centre of the service instead of being a consequence of the system: a consumer.
My friend Frank Köster was part of the team that introduced the CBL concept into the UK. Together we hosted seminars and events sharing ways that people could be offered the opportunity to help unlock the waiting list gate. We held a seminar in Delft City Hall, in the very room where the CBL idea was conceived.
We talked about control and the desire to devolve as much as possible to a different consumer in a world where choice was already powerful but at the same time acknowledging that supplies were diminishing. We knew that choice never built more homes. It never will, but that's not the point. We also knew the effect of how having little control can impact on confidence and self-esteem.
I recall the early reticence. CBL was consumer-facing, introducing products that were described, offered and marketed. Customers were asked to search, browse and bid. Online was the driving force. CBL was digital by design, years ahead of its time. In 2001 many landlords were still grappling with their websites.
An Inside Housing/Housing Partners survey recently revealed that CBL remains the most popular platform of engaging people with an allocations system. As a result, many social landlords have been good at preparing their products for market with the consumer in mind.
But it's now been another generation since CBL was first introduced and some organisations are losing faith and talking of reverting to more traditional approaches, retreating behind the gate, regaining control where demand is once again outstripping supply and homelessness is on the increase. We've been here before. But there is one huge difference.
Today's marketplace is smarter.
There's still a housing crisis. There's still homelessness and high demand - and there must still be the desire to retain degrees of consumer involvement. How can these be reconciled?
Determining housing need, reasonable preference and the criteria for homelessness is complex. In 1981 the system was virtually opaque in its complexity. It's easier to control that way. But complexity does not mean that access to homes has to be complicated. In recent years the experience of CBL has taught forward-thinking organisations to not only react to need but predict demand, by matching products to people, using narratives, case studies and personalisation with segmentation and behavioural insight. It has become wiser as consumer expectation has grown more sophisticated. At least, that's how it should be.
CBL pre-dated Facebook by four years. Smartphones didn't arrive until three years later. The current generation of homemakers are pretty familiar with Zoopla and Rightmove shop windows.
A survey by a global software company revealed the property industry believes itself to be 'slow to adapt' to technology, despite recognising the expected level of service demanded by today's digital consumer. Local authorities face pressure from the Homelessness Reduction Bill. Nominations to associations are being squeezed and affordability is being examined. And the remedy is to go back almost 40 years?
Some advances have been made with apps that help with bidding. But it's not enough. People are still facing a four-hour wait clutching tickets to be told something they could, and should, already know. If they can track a pizza or a parcel they can track a housing search. They are capable of finding out, but only if they are told.
Modern marketplace
In 1981 I was very busy - actually, too busy. I know that people were ill-informed and sketchy details were contained on a card system. Application forms were cumbersome and impersonal, and usually too late and one-dimensional. Housing need was tough and the system easily justified.
We now have information and data. Insight. Predictive. Analytical. People and products can be easily connected. 'Application', 'register' and 'bidding' are now all terms of the past. Today's consumer finds them difficult to understand and the marketplace has moved on.
Systems can now record, remember and recommend, and not just count points.
In a marketplace where the informed customer expects to enjoy influence, social landlords appear to be ready to revisit control and rule over consumer behaviour.
Consumers have become smarter by default. Even people threatened with losing their home are smart. The tools are smart. The products becoming available are smarter by the day.
Yes, the complexities remain - but we can change the questions, engage differently, create options and invite people in rather than try to keep them out. We can encourage the self-control that can build the confidence that can influence prevention and sustainability. Hunting for a social home should be a lifestyle experience, not focused on a ticketing machine in an overcrowded waiting room on a Friday afternoon.
It's 2017. There's still a housing crisis, so it's time to think smarter, and time to ditch the gate and the control it represents. Replace it with something smarter - the customer is already waiting.
Barry Marlow, consultant and trainer
---
This opinion piece was written independently, but first appeared in a chapter sponsored by Housing Partners
---