How the housing sector is putting the climate emergency top of the agenda
Environmental issues are now firmly on the government's radar. Inside Housing's survey asked social landlords how they are tackling energy efficiency. Picture by Getty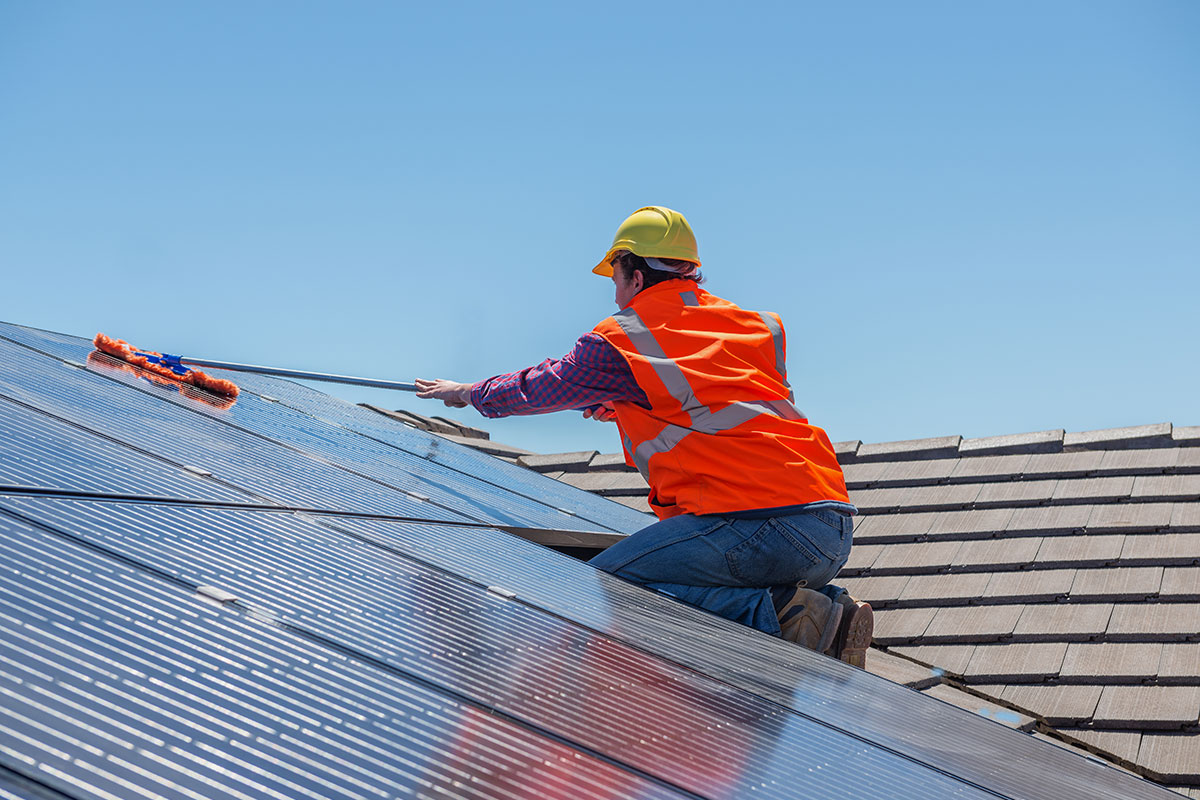 Sharelines
---
The Inside Housing survey found that for 85% of respondents, the main driver for investment in energy efficiency is a desire to reduce bills and fuel poverty among residents (sponsored) #UKHousing @IHPartnerships @LHCProcurement
---
Two-thirds of 409 respondents to an Inside Housing survey about energy efficiency said that reducing carbon emissions was their main reason for investing (sponsored) #UKHousing @IHPartnerships @LHCProcurement
---
Forty-one per cent of Inside Housing survey respondents have invested in solar thermal, 39% in solar photovoltaic with battery storage and 35% cite vehicle-charging infrastructure (sponsored) #UKHousing @IHPartnerships @LHCProcurement
---
In association with:
This year will hardly go down in the annals of history as a year of certainty. Yet amid an array of confusion, one topic completed an inexorable rise in the public and political consciousness – climate change. In the year in which the UK parliament took to declaring a climate emergency, millions of children took to striking, and Extinction Rebellion controversially took to the London streets, where does social housing stand on energy efficiency?
To find out, Inside Housing and LHC have run a survey of professionals in the sector to gauge views. It is not the first time we have done so. Back in 2016, we organised a similar survey, which garnered responses from 196 people. This year, the same exercise attracted 409 respondents. That increased response rate alone suggests energy efficiency is an area that has become more relevant and pressing to more people working with social housing.
Yet dig into the results and the situation becomes more complicated. It is unclear whether interest is yet manifesting as consistent action. It is true that when asked about whether energy efficiency considerations affect organisational decisions on procurement, 38% say it does to a large extent. An additional 8% say it affects decisions to a very large extent.
What that means, however, is that 30% of respondents to this question say energy efficiency figures to a limited or very limited extent in decisions about procuring products and services, and 24% say its influence is neutral.
For John Skivington, group director at LHC, those figures came as something of a surprise.
"The number of responses to the survey was great – there's a lot of interest in energy efficiency," he emphasises. "Despite lots of people being interested, they're not factoring energy efficiency into decisions about procurement."
---
---
Encouraging signs
However, those looking for encouragement that the climate emergency is or will imminently influence most social landlords can definitely find it elsewhere in the survey results. Ignoring 'don't knows', a striking 90% of respondents say they expect their organisations' spend on energy efficiency to rise in the coming year. That figure increases to 92% when the timeline is lengthened to the next two years and 93% when the horizon becomes the next five years.
These figures become more notable still when compared to those from 2016. That year, just more than 50% of respondents said they expected spend on energy efficiency to increase in the coming year.
"This is really the standout response – that people say they will be spending more on energy efficiency," reflects Mr Skivington. "I think there is this recognition that more has got to be done."
And precisely what is the impetus behind that recognition? For most, the main driver for investment in energy efficiency is a desire to reduce bills and fuel poverty among residents – it is named by 85% of respondents to this question. Meanwhile, two-thirds cite reducing carbon emissions as a driver, for its overall benefit to the environment.
Interestingly, meeting government targets is named by less than half as an important reason for focusing on this area. That may perhaps link to views on obstacles to progress.
When asked about the most significant barrier to wider installation of energy efficiency measures in homes, 37% speak of reduced government funding for schemes and 23% offer concerns about the lack of effective legislation enforcing standards in this realm.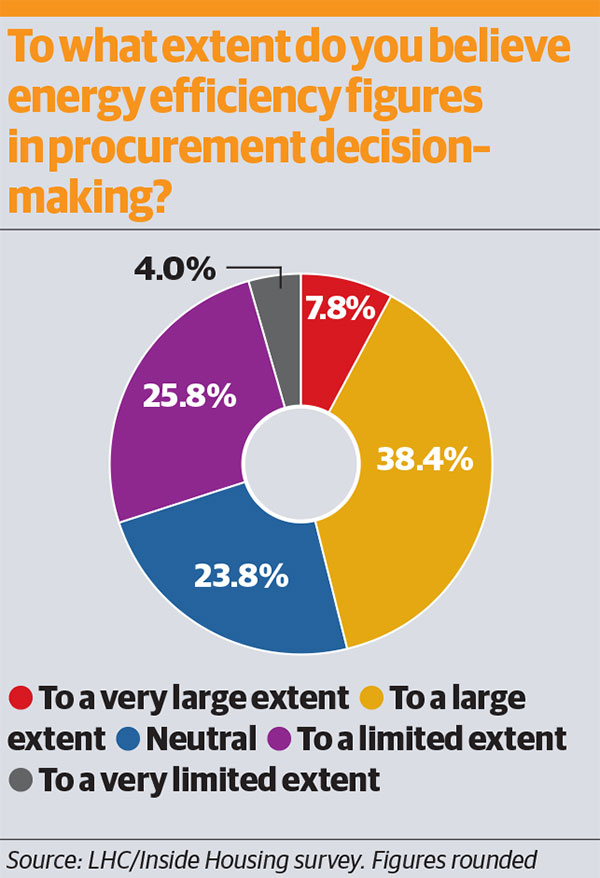 One housing developer says: "Without positive legislation, of which there is little sign, not much will happen."
A director in asset management at a housing association adds: "Policy and legislation have to be clearer for organisations to have a focused strategy on tackling energy efficiency."
This bears out what LHC's Mr Skivington says he has seen in the sector: "We had a real excitement in the industry five or six years ago, with the RHI [Renewable Heat Incentive] and so on. And then all the grants were cut in England and Wales, so there's been a real dip in the market – it's been a bit down and pessimistic."
Over the past year or two, though, he says he and his colleagues "have sensed a bit more optimism and a bit more focus".
Certainly, our survey indicates that many social housing leaders are not waiting for further government funding, support or legislation before introducing energy-efficient technology. Some 41% say their organisation has invested in solar thermal, 39% mention solar photovoltaic with battery storage and 35% cite electric vehicle-charging infrastructure.
For Mr Skivington, those figures are encouraging and suggest that when organisations do have a policy to invest in energy efficiency, "they are using a range of new technologies already, not waiting for new technologies to come out".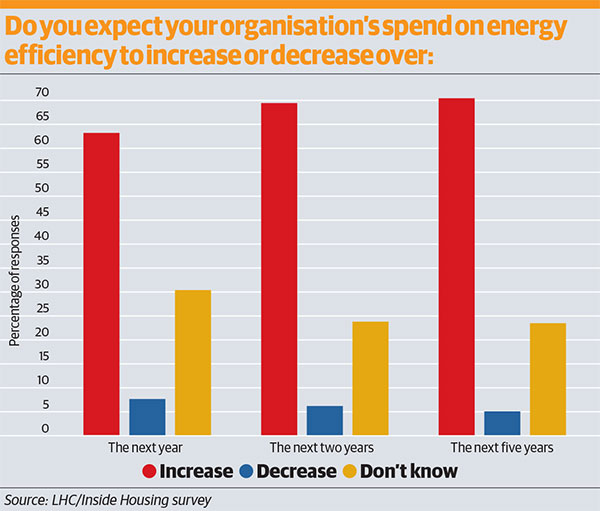 For some, however, the breadth of options available is at risk of holding back further progress.
"There is a lack of clear advice and guidance for the sector on the best approach to take," contends one respondent working in asset management at a stock-holding local authority.
"More sharing of good practice across all aspects of energy efficiency in domestic properties would be useful," adds another working in the same area and the same type of organisation.
Waiting to act
The perceived lack of established best practice perhaps increases worries about taking action. As one sustainability officer at a housing association puts it: "The conservative nature of the sector is a key barrier to faster roll-out of energy efficiency measures and caution has been increased by previous bad experiences.
"The gap between previous government legislation and funding, and the current situation, has also been a key barrier. Even as technology costs come down, the financial and regulatory case is still not as strong as it used to be and there is a sense the organisation is waiting for this to return before taking action."
They conclude: "Despite this, I hope current activism and discussions will help to spur more proactivity."
It is a hope that will be shared by many others.