What councils need to know for successful developing
Sponsored by

Procurement Hub
A recent Inside Housing survey, in association with Procurement Hub, looks at the key drivers for developers to seek external help and what their priorities are in selecting a consultant. Picture by Getty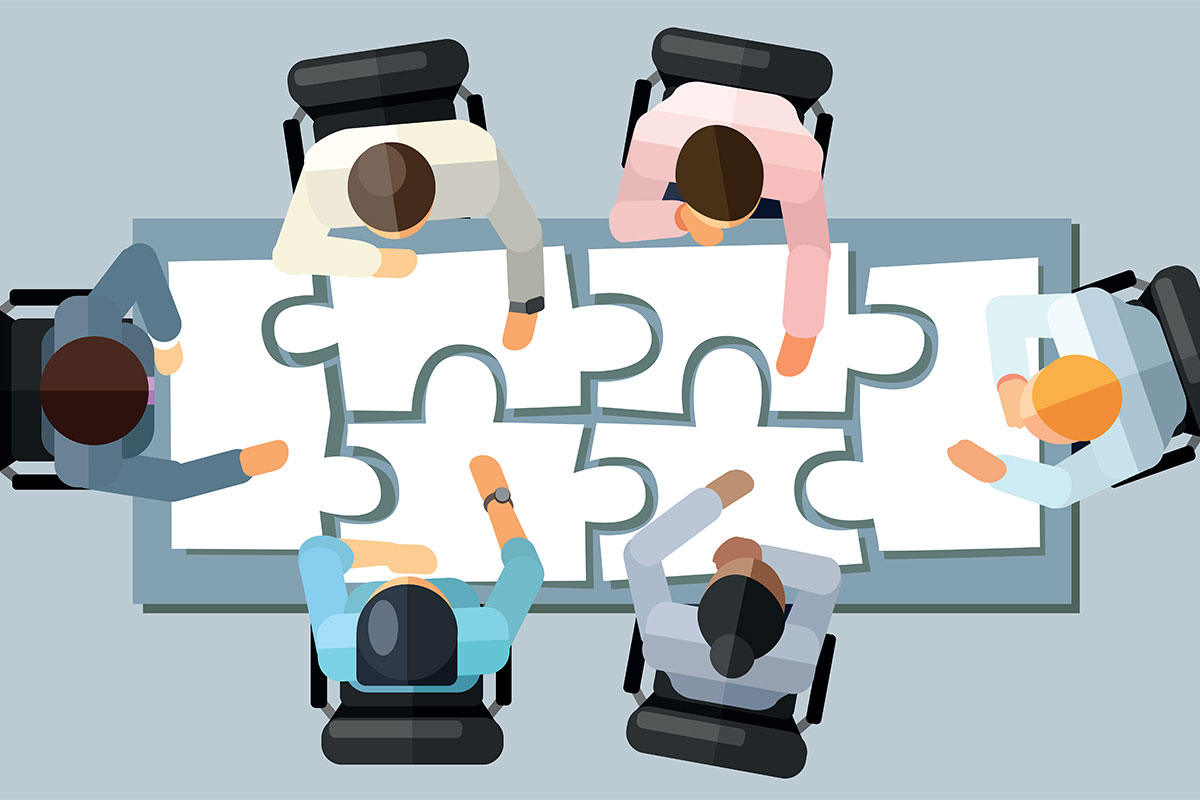 Sharelines
---
"Regeneration is about building a whole area, not a few houses. It's a complex procedure and not the sort of expertise councils have internally," explains Sophie Quenby @Procurement_Hub (sponsored) #ukhousing @IHPartnerships
---
Asked how important a compliant, quick and efficient route is for reviewing consultants, 64% of respondents of the Inside Housing survey said it was essential (sponsored) #ukhousing @IHPartnerships @Procurement_Hub
---
Post-Grenfell, 46% of social housing organisations have changed their approach to using consultants. Sophie Quenby @Procurement_Hub comments, "It's about getting things right first time rather than correcting later." (sponsored) #ukhousing @IHPartnerships
---
In association with:
It seems we have needed an urgent acceleration in housebuilding in the UK since, well, forever. Last year the government set itself another target: to build an additional 300,000 homes each year.
Progress has been made – but there is still plenty of work to do. According to government figures, 57,000 homes were completed in the UK in the first quarter of 2019 – more than in any other quarter since the end of 2007. Councils are becoming more involved, too; collectively they have posted more than 1,000 completions in five out of the past 13 quarters, compared with once in the previous 20 years.
But that is not the whole story. Building homes is getting harder to do, too. As our survey results suggest, the technical and regulatory challenges that developers must hurdle today are growing taller, and the social sector's developers don't always have the requisite expertise in-house to negotiate this increasingly complex landscape.
"That's why you go to experts," says Sophie Quenby, operations manager at Procurement Hub. "Not everyone can know everything."
Together with Procurement Hub, Inside Housing has surveyed professionals from across the sector on why and how often they use consultants during the development process.
---
---
We received responses from 96 individuals, who between them represent a broad swathe of the sector; they include 32 managers, 19 heads of service, eight officers, 20 directors and four assistant directors.
Almost half – 47% – work directly in development, but other respondents work in roles as varied as finance, compliance, housing management and health and safety.
And across the board, it is clear that consultants now play a major role in all aspects of development. When asked whether they brought consultants in when developing, more than three-quarters (78%) of respondents said they did – and that collectively they do so across the whole gamut of the development process.
The survey offered 16 possible answers to the question 'what types of consultancy do you use', and every box was ticked multiple times. More than half of respondents said they used consultants to help with architecture (59%), project and cost management (55%), construction design and management (54%), and technical and site investigations – but with the exception of a couple of outliers (risk management and governance: 13%, and auditing and development monitoring: 18%), use is strong across the board.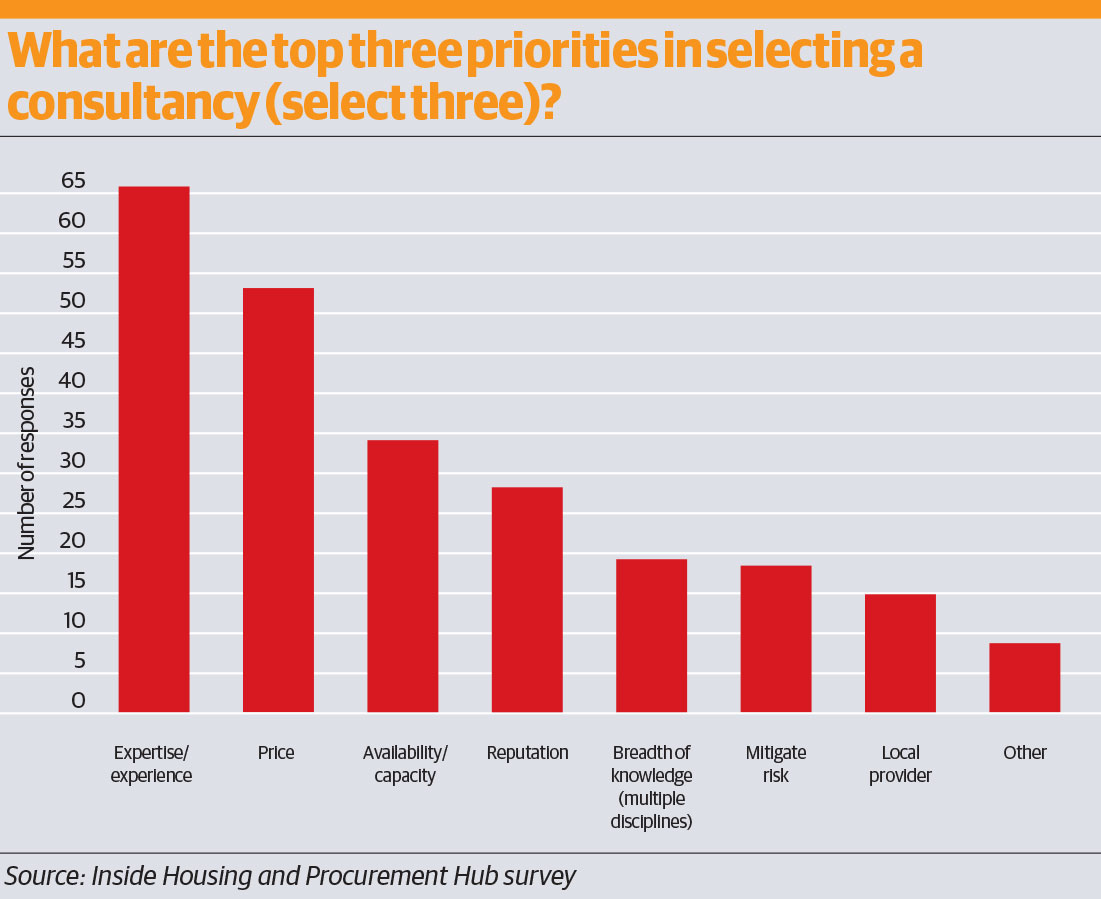 Increasing complexity
So we know the areas in which external help is being sought, but what are the developers looking to achieve?
The survey asked respondents for their top three most likely factors when deciding to use some form of consultancy. Perhaps unsurprisingly, the most popular answers were a lack of appropriate internal expertise – 60% cited this as a factor – and a cost-effective way to gain that expertise (52%).
More striking were the nods to the increasingly complicated nature of development today. Almost half (47%) cited a complex construction environment, while just under one-third of respondents (30%) said a complex legislative environment was a major factor.
"Building homes has become a more complex process," says Ms Quenby.
"You need to know about land purchasing, what kind of houses to build… Regeneration is about building whole areas, not a few houses. There is a lot more behind it. That's why people reach out to consultants – it's a complex procedure and not the sort of expertise most have internally."
Speaking of increasingly complex processes, uncertainty around Brexit was cited as a factor by just 4% of respondents; while it might factor on everyone's risk registers, it is not a top driver here.
A post-Grenfell world
Asked whether their organisation's approach to using consultants had changed following the Grenfell Tower disaster, 46% said that it had (44% said it had made no difference, while 10% of respondents did not offer a reply).
One provider that has changed its processes as a result is 12,000-home One Manchester. "[We wanted] to make sure we build to the highest quality and ensure that we don't have another Grenfell," explains Pauline Terry, development manager at One Manchester .
This result was as expected, Ms Quenby says. "People want to make sure they are getting things right first time rather than correcting it later on."
Top priorities
The survey also asked respondents for their top three priorities when selecting a consultant. By far the most popular response – cited by 81% – was expertise and experience. The second-most popular response was price (54%), followed by availability (35%) and reputation (29%).
In other words, the top priorities are all about mitigating risks. Developers want to hire people who know what they are doing, and don't want to pay an extortionate amount to do so.
But as another set of responses reveals, the speed of the hiring process itself is seen as key by most of those surveyed.
When asked how important is a compliant, quick and efficient route to reviewing and selecting consultants, 64% of respondents – split pretty much evenly – said it was either somewhat important, very important or essential. That matters to consultants themselves, too; Maggi Howard, director at housing consultancy Perito Property, ticked the 'essential' box: "It's about resource management," she explains.
"Sometimes your client is a local authority or a housing association with a complex decision-making process. Officers aren't always empowered to say, 'I need that doing, and I need it in three weeks.' That isn't a complaint, it is just the nature of business; you have to go with it."
Given the growing urgency around building new homes, it seems those qualities – speed and flexibility – are going to be in as much demand going forward as the consultants themselves.