163 high-rise blocks yet to see removal of Grenfell-style cladding begin despite deadline
A total of 163 high-rise blocks covered in Grenfell-style aluminium composite material (ACM) cladding have yet to see any removal work begin on them nearly 26 months after the Grenfell Tower tragedy.
---
---
According to today's data, as of 31 July there was a total of 158 social housing blocks found to have ACM cladding on as of the end of July. Of these, there were 18 that had yet to see work start, 83 that had seen work start and 57 that had seen work completed.
Out of the 179 private residential blocks with ACM, there were still 145 that had not seen work start, 21 had seen remediation work start and cladding had been fully removed from 13 blocks.
The latest figures revealed that no remediation work had begun on any private residential block in the last two months, and only one new social housing block had seen work start in the same period.
The figures also revealed that ACM blocks were continuing to be found, with an additional three private blocks being added to the numbers this month.
In early May, the government announced that it would set up a £200m fund to pay for the removal of cladding from private residential blocks where work had stalled. The fund opened last month and will remain open until the end of the year.
A £400m fund to go towards the remediation of social housing blocks was announced by Theresa May in May 2018.
The latest building figures also included stats on student accommodation, hotels and public buildings over 18 metres.
Of the 56 student blocks to have ACM, 33 had now seen work completed, while 17 had yet to see work start. Only two out of 29 hotels had seen work completed, while two of nine publicly owned buildings had seen their cladding fully removed.
A Ministry of Housing, Communities and Local Government spokesperson said: "It is unacceptable that residents are still having to live in buildings with unsafe ACM cladding.
"Progress has been far too slow and due to inaction from some building owners we are committing £600m to speed up the pace of remediation.
"There are no more excuses. The private sector remediation fund means building owners can get on with making their buildings safe as quickly as possible.
"Our message remains clear that building owners must now get on with this crucial work."
Never Again campaign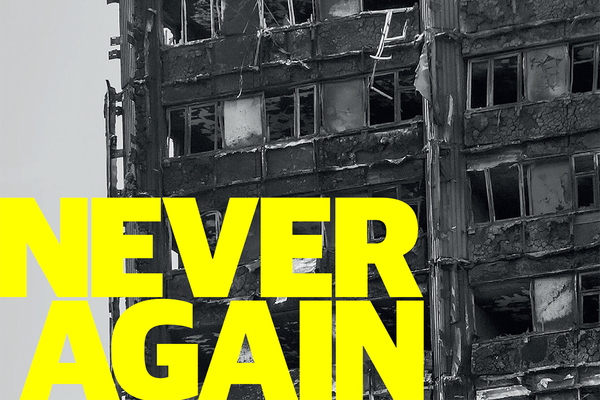 Never Again: campaign asks
Inside Housing is calling for immediate action to implement the learning from the Lakanal House fire, and a commitment to act – without delay – on learning from the Grenfell Tower tragedy as it becomes available.
LANDLORDS
Take immediate action to check cladding and external panels on tower blocks and take prompt, appropriate action to remedy any problems
Update risk assessments using an appropriate, qualified expert.
Commit to renewing assessments annually and after major repair or cladding work is carried out
Review and update evacuation policies and 'stay put' advice in light of risk assessments, and communicate clearly to residents
GOVERNMENT
Provide urgent advice on the installation and upkeep of external insulation
Update and clarify building regulations immediately – with a commitment to update if additional learning emerges at a later date from the Grenfell inquiry
Fund the retrofitting of sprinkler systems in all tower blocks across the UK (except where there are specific structural reasons not to do so)
We will submit evidence from our research to the Grenfell public inquiry.
The inquiry should look at why opportunities to implement learning that could have prevented the fire were missed, in order to ensure similar opportunities are acted on in the future.