Placemaking starts at home
James Hudson from Your Homes Newcastle discusses how the sector has acted flexibly during the COVID-19 pandemic in order to help relieve homelessness and poverty
In association with:
This year, due to the COVID-19 lockdown in March, we saw the government provide £250m of funding and request that all local authorities get 'Everybody In' and find accommodation for all rough sleepers. What was your experience of this?
During the first few weeks of the spring lockdown, Newcastle Furniture Service (NFS) [which supports housing organisations across the UK, including Your Homes Newcastle, to provide affordable and quality household items for residents] worked with emergency rehousing cases supporting frontline staff to provide furniture.
Many of these new customers were formerly homeless and moving into emergency accommodation. Between 23 March and 1 July there were 262 allocations, of which 88% required furniture.
During the same period NFS carried out 600 deliveries to clients across the UK. We also saw 1,688 Universal Credit claims verified and 883 referrals into the financial inclusion service. Other customers included women being relocated from refuges or fleeing domestic violence, older people and otherwise vulnerable customers.
The COVID-19 lockdown has triggered a very reactive response to homelessness with high spend on emergency B&Bs. To switch that to a proactive strategy with preventable interventions and the provision of affordable homes is difficult to flip and make happen.
However, this year the housing sector has delivered some amazing initiatives across the country and it gives hope that homelessness is not an unsolvable problem.
---
---
How do you think the sector might continue to work post-COVID-19?
This year has been unusual – you couldn't have made it up. You'd never write a business strategy for allowing everyone to work from home, digitally enabling tenants and getting everyone housed without it being a five-to-10-year aspiration, but we have done it and within a short timeframe.
Never waste a crisis, because it really shakes up thinking and just shows what can be achieved. This year has been challenging for everyone, but there has been a lot of good that's come from this and we need to capitalise on that and keep the momentum going. This situation will set up the sector for the next decade.
Lockdown times have put tenants and colleagues in the same boat – none of us could go out, see our families or socialise. This common theme to our days has brought staff and residents closer together than they have ever been. We are all in the same reality now.
As an organisation, one of NFS's biggest benefits has been supporting frontline staff and learning so much about what they do. Many didn't realise how first point of contact scenarios happen. I'm hoping that the joining of these dots will help to make tenants feel more valued.
I think the sector has come full circle since [the Welfare Reform and Work Act in 2016] and the 1% rent reduction.
The sector is gradually opening up a two-way dialogue with tenants, and landlords need to be transparent and honest to create trust. Part of this is that landlords have to understand a tenant's lifestyle – we have to be part of their world rather than forcing them to be part of ours. Housing providers need to stop thinking that they own the properties and think of them as residents' homes.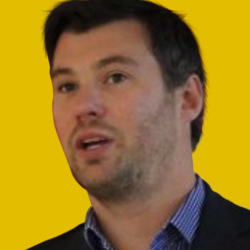 James Hudson entered the housing sector almost 10 years ago after working with several housing providers on
a range of projects. With a background in commercial, customer experience and innovation, Mr Hudson's role as assistant director of commercial strategy and growth at Your Homes Newcastle is to grow the business with a commercial mind and a social heart. He is also chair of the Chartered Institute of Housing's North East board.
How has COVID-19 affected tenants' lifestyles?
COVID-19 exacerbated the situation of furniture poverty and magnified tenants' circumstances because they weren't able to go out of the home to use launderettes or to buy cooked meals such as takeaways or visit friends and family who might normally offer support and facilities for food and washing requirements.
The feedback we have received during the past six months is that cookers and fridges have been the most important items to have. This is shown in the research NFS carried out with the Housing Associations' Charitable Trust (HACT), and recent statistics from the national charity Turn2Us show there are 1.9 million people in the UK without a cooker, almost one million people living without a fridge and two million living without a washing machine.
The true value of a home is about having that foundation to make a house a home – without having to sacrifice one of the basic requirements of living.
Furniture poverty has become a priority more than ever before. Everyone's eyes have been opened, but to be part of the solution we need to work in partnership, and with organisations such as End Furniture Poverty.
Once a home has been furnished, what are the changes that you see?
Affordable furniture provision has a range of positive impacts and the HACT research has provided figures to make it more than anecdotal.
Having furniture and kitchen appliances has a positive impact on residents' finances as they no longer have to pay high-cost purchase agreements and they save money on food and energy. For example, if you live hand to mouth with food, it's an expensive way to live – we know that a family of four that doesn't have a cooker or microwave spends an additional £42 per week, equating to £2,184 per year. Having a furnished home means there is less financial stress.
In numbers
600
Furniture deliveries carried out by NFS between March and July
£42
Extra cost per week for a family of four without a cooker or a microwave
And how can it change the relationship with a landlord?
Alison Inman wrote an article on the importance of furnished tenancies, which summarises the problem and how landlords need to support residents. Landlords need to genuinely identify how tenants live, then tailor budgets and services to meet these. It's about homes not stock.
When NFS did the research with HACT it was found that tenants who have our service are less likely to be in rent arrears – on average by £100 a month. Not having to talk to tenants about debt as the number one conversation opens up so many more avenues for landlords to engage and support.
Besides the clear financial benefits, how does having a furnished home improve a tenant's well-being?
If people are taking pride in their homes it is a big tick, but it's not as simple as furnishing a home.
It's about placemaking, community and changing negative behaviours such as domestic violence.
If people take pride, it encourages better maintenance of their home and means a tenant staying in a home for longer. In turn the sense of familiarity and belonging in a community has a big impact on a person's well-being and happiness – and we all need that at the moment while we're living more 'locally'.