Ministers 'will have blood on their hands' if another death occurs in an ACM-clad block, says MP
The government will have "blood on its hands" if another death occurs as a result of a fire in a block with Grenfell-style cladding, ministers were told tonight.
In a debate tonight, Labour MP Rushanara Ali criticised the government for the "unacceptably slow progress" at making buildings with Grenfell-style cladding safe.
Responding, housing minister Kit Malthouse said "talks were continuing across government" about additional measures to speed up removal – but he was unable to say what they would involve.
The minister had been asked to respond directly to Inside Housing's new campaign, End Our Cladding Scandal, which calls on the government to fund the removal of cladding from private blocks.
Of 176 affected private residential buildings, just 10 have had their cladding removed. Leaseholders face the prospect of crippling bills to fund the removal in 93.
---
---
Opening the debate, Ms Ali, MP for Bethnal Green and Bow, which has a large number of affected towers, said: "[Grenfell] was an avoidable man-made disaster. Shockingly, the nation then discovered this type of cladding, and similar flammable cladding, is present on hundreds of blocks around the country.
"In the immediate aftermath of Grenfell, ministers promised swift action to replace [aluminium composite material (ACM)] and other flammable material from high-rise blocks but instead what we have seen is unacceptably slow progress and 22 months later 345 high-rise buildings with ACM panels are yet to be made safe."
Calling on the government to announce a national fund and set a deadline for the work to be carried out, she added: "I would go so far as saying if one more fatality occurs in a block with ACM cladding, then this government is absolutely liable and will have blood on its hands."
She was followed by Jim Fitzpatrick, MP for neighbouring constituency Poplar and Limehouse, who specifically called on ministers to respond to the Inside Housing campaign.
He said: "I want to mention the Inside Housing campaign End Our Cladding Scandal. Last Friday Inside Housing launched a new campaign which calls on the government to take action and end the scandal of residents trapped in private blocks with dangerous cladding.
"The All-Party Parliamentary Group on Leasehold and Commonhold Reform has backed the campaign, as have many individual MPs, the Chartered Institute of Housing, the Royal Institute of British Architects, the Fire Brigades Union and Grenfell United.
"I would be grateful if the minister could comment on the Inside Housing campaign."
Responding, Mr Malthouse said: "The secretary of state has written to all relevant building owners setting out our strong expectation that leaseholders should be protected. He has asked them to find a solution urgently.
"I would like to assure the house that the secretary of state and I are continuing to press all owners of buildings with this ACM cladding to protect leaseholders from paying for this essential work.
"And further to this, we have been engaged across government to consider additional interventions to ensure progress can be made more swiftly."
However, when asked by Ms Ali what interventions he was considering, Mr Malthouse said: "I'm not able to say what our measures will be but I am hopeful we will be able to do so in due course."
Inside Housing's End Our Cladding Scandal campaign calls for a public fund to be established, a clear timetable of no more than two years to be set out for the work, and reimbursement for leaseholders who have already spent thousands on the cost of interim measures.
End Our Cladding Scandal: campaign backers
Martin Hilditch, editor, Inside Housing
Manchester Cladiators
UK Cladding Action Group
Natasha Elcock, chair, Grenfell United
Sadiq Khan, mayor of London
Kate Henderson, chief executive, National Housing Federation
Terrie Alafat, chief executive, Chartered Institute of Housing
Andy Burnham, Mayor of Greater Manchester
Lord Gary Porter, chair of the Local Government Association
Polly Neate, chief executive, Shelter
Jane Duncan, chair of the expert advisory group on fire safety, RIBA
Andy Dark, assistant general secretary of the Fire Brigades Union
Christina McAnea, assistant general secretary, UNISON
Sir Peter Bottomley, Conservative MP and chair of the All-Party Parliamentary Group on Leasehold and Commonhold Reform
Jim Fitzpatrick, Labour MP, and member of All-Party Parliamentary Group on Leasehold and Commonhold Reform
Mark Amesbury, shadow employment minister and Labour MP for Weaver Vale
Emma Dent Coad, former Labour MP for North Kensington
Lucy Powell, Labour MP for Manchester Central
Rushanara Ali, Labour MP for Bethnal Green and Bow
George Howarth, Labour MP for Knowsley
Graham Stringer, Labour MP for Blackley and Broughton
Rob Ellis, presenter, Capital FM
John Biggs, mayor of Tower Hamlets
Paul Dennett, mayor of Salford
Suzanne Richards, councillor and executive member for housing and regeneration on behalf of all Manchester's Labour Councillors
Sir Richard Leese, Labour councillor and leader Manchester City Council
John Leech, Manchester Liberal Democrat leader on behalf of all Manchester's Liberal Democrat councillors
Darren Rodwell, executive member for housing at London Councils and leader of Barking and Dagenham Council
George Clarke, TV Architect
David Walker, bishop of Manchester
Graham Tomlin, bishop of Kensington
John Roberts, founder of AO.com
Josh Beaumont, professional rugby player, Sale Sharks and resident of affected building
Bill Beaumont, former England rugby captain
Jeremy Dyson, co-founder of the League of Gentlemen
Andy Moss, actor who has appeared on Channel 4's Hollyoaks and resident
Ross Mullan, actor who has appeared in Game of Thrones
Get Cape Wear Cape Fly, musician
Nour-eddine Aboudihaj, spokesperson for Justice4Grenfell
Mike Leonard, chief executive, Building Alliance
Kate Kendrick, founder, National Leasehold Campaign
Martin Boyd, chair, Leasehold Knowledge Partnership
Paula Higgins, chief executive, HomeOwners Alliance
Mark Henderson, chief executive, Home Group
Ben Clay, founding member of the Tenants Union
Hilda Palmer, acting chair of the Hazards Campaign
Susan Bright, professor of law, University of Oxford
Gill Kernick, consultant and former Grenfell Resident
Phil Murphy, fire safety expert and tower block resident
This list will be updated. Please email peter.apps@insidehousing.co.uk if you want to support the campaign
End Our Cladding Scandal: full coverage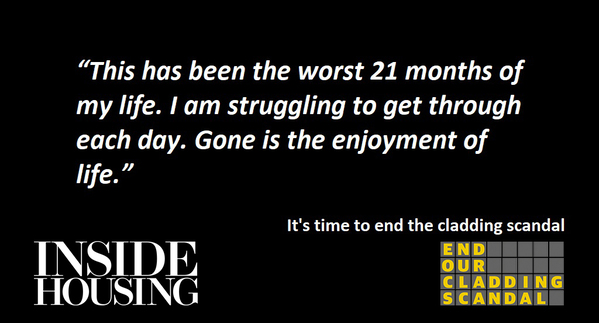 Click the links below to download images to use on social media (like the one above) to promote End Our Cladding Scandal
End our Cladding Campaign logo for Twitter
Note: If your browser does not allow you to download the image, simply right click on the graphic and click 'save image as' instead.